Hello Divas!!!!
I have recently added a new item to my hair care line and it is none other than Coconut Oil. I actually grew up using coconut oil to do my deep conditioning and it worked really well.
I missed out on it a few years and now that my hair is so dry I have decided to give my hair some new help.
I ordered Nature's Way EfaGold Coconut Oil because I read some great reviews on it.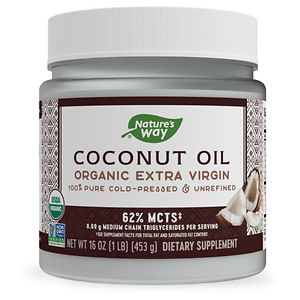 This coconut oil is Organic which means it is one of the purest forms you can get. It came in a liquid state but once I opened the container it solidified after about a day in room temperature conditions. The good thing about coconut oil is that it quickly liquifies once it touches your skin, even though it is solid at room temperature.
It is really great for my hair after only two days of use and while it appears shiny in the container it is not at all greasy or heavy on my hair.
Some people also use it for their skin but for now I am just trying it out on my hair to see if I can return some vital nutrients and make my hair soft and shiny.